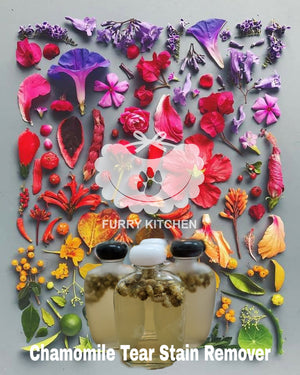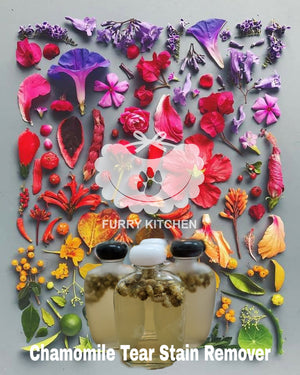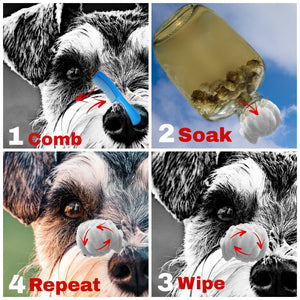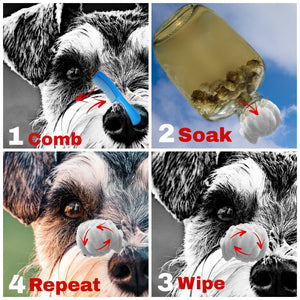 On Sale
洋甘菊酶除淚痕酵素 Camomile Enzyme Tear Stain Remover
為貓狗配方,可幫助去除難看的淚痕, 清潔手腳肉枕內邊
適用於12週以上的貓狗 Furry Kitchen 洋甘菊酶除淚痕酵素 是一種局部的,溫和的
水基擦拭溶液,可去除寵物毛皮上的眼淚和唾液污漬。
幫助使毛髮變得好看。可以定期使用。 請勿直接用於眼睛。
用Furry Kitchen洋甘菊酶
除淚痕酵素 潤濕棉球,然後輕輕擦拭污漬的皮毛。無需沖洗。
實用提示: 結合健康的Furry Kitchen飲食,有助於從內到外消除淚液。
此產品是食品級且安全的。
甘菊酶
用法:
1. 來回梳眼前的毛
2. 用棉花/化妝棉沾上洋甘菊酶除淚痕酵素
3. 順時鐘方向打圈
4. 再逆時針方向打圈清潔
有需要時重複以上動作,直至乾淨為止,不需要用水清洗。
*不含化學成分,完全天然可靠安全
*只供外用,不適宜用來洗眼
*本產子產品並不適宜當著眼藥水使用

Formulated for Dogs and Cats to Help with Unsightly Tear Stains, it sanitizes paws as well. 
For use in dogs and cats over the age of 12 weeks.

Furry Kitchen Tear Stain Remover is a topical, gentle, water-based, wiping solution for removing tear and saliva stains from your pet's fur. Helps unsightly strains for beautiful, healthy eyes and coat. May be used on a regular basis.

Details
Do not use directly into the eyes. Moisten cotton ball with Furry Kitchen Camomile Tear Stain Remover and gently wipe over stained fur area. Rinsing is not needed.

Helpful Tip:
Combined with a healthy Furry Kitchen diet helps to remove tear strains from the inside and out.
This product is food graded and safe.

Camomile enzyme
1. Comb through the hair at affected area
2. Apply "Camomile Enzyme Tear Stain Remover" on a cottonenzyme to remove tear marks enzyme with cotton / cotton
3. Wipe in circular motion clockwise
4. Then do it counterclockwise
 Repeat as necessary until clean, no rinsing is required.
* No chemicals, this product is completely natural, reliable and safe
* For external use only, this is not an eyewash
* This product is not an eye drops